Today is the day. Buffalo Rock City is here. I'm glad I was able to be a part of this amazing recording. I'm bass guitar on two songs :
"I've Had enough (Into the Fire)" from the "Animalize" album, with Gene Schmidt on guitar, Jody Veletta from Dodriver on vocals and Shawn Pryzbylak on drums.
And I'm also on the Bonus Track, featuring co-writer Mitch Weissman on vocals. "While The City Sleeps" originally appeared on KISS' release, "Animalize." This is the first time a KISS co-writer re-recorded a new studio version of a KISS song that he wrote with the band. Also with Gene Schmidt on guitar and Shawn Pryzbyzak on drums.
click the link to buy/listen. https://buffalorockcity.bandcamp.com/album/buffalo-rock-city
Aside from the purpose of creating a great sounding CD of cohesive KISS covers, "Buffalo Rock City" was also done with another goal in mind. That goal is to raise money and awareness for the homeless community in Western New York. Producer, John Jeffrey, has aligned himself, and the album, with the Compass House Foundation. Located in Buffalo, NY, Compass House is a homeless shelter, which runs not only an emergency shelter, but operates a resource center, a rapid re-housing program and a transitional housing program, with their mission being to provide runaway, homeless and street youth with safe shelter and services, in an environment that supports dignity, respect and self-reliance. Proceeds of the sales of "Buffalo Rock City" will be donated to the Compass House Foundation.https://www.compasshouse.org/
"Buffalo Rock City" contains 13 songs (12 tracks and a bonus *collector's track*), all of which were recorded in the same approach, like a singular "band" recording an album. All of the drums and bed tracks were recorded at Watchmen Studios in Lockport, NY (engineered by Doug White) on January 23, 2020. The rest of the tracks were recorded locally and remotely – from all across the world – all building upon the same sonic foundation, to ensure "Buffalo Rock City" sounded like a complete "album" of work. And it does!!!!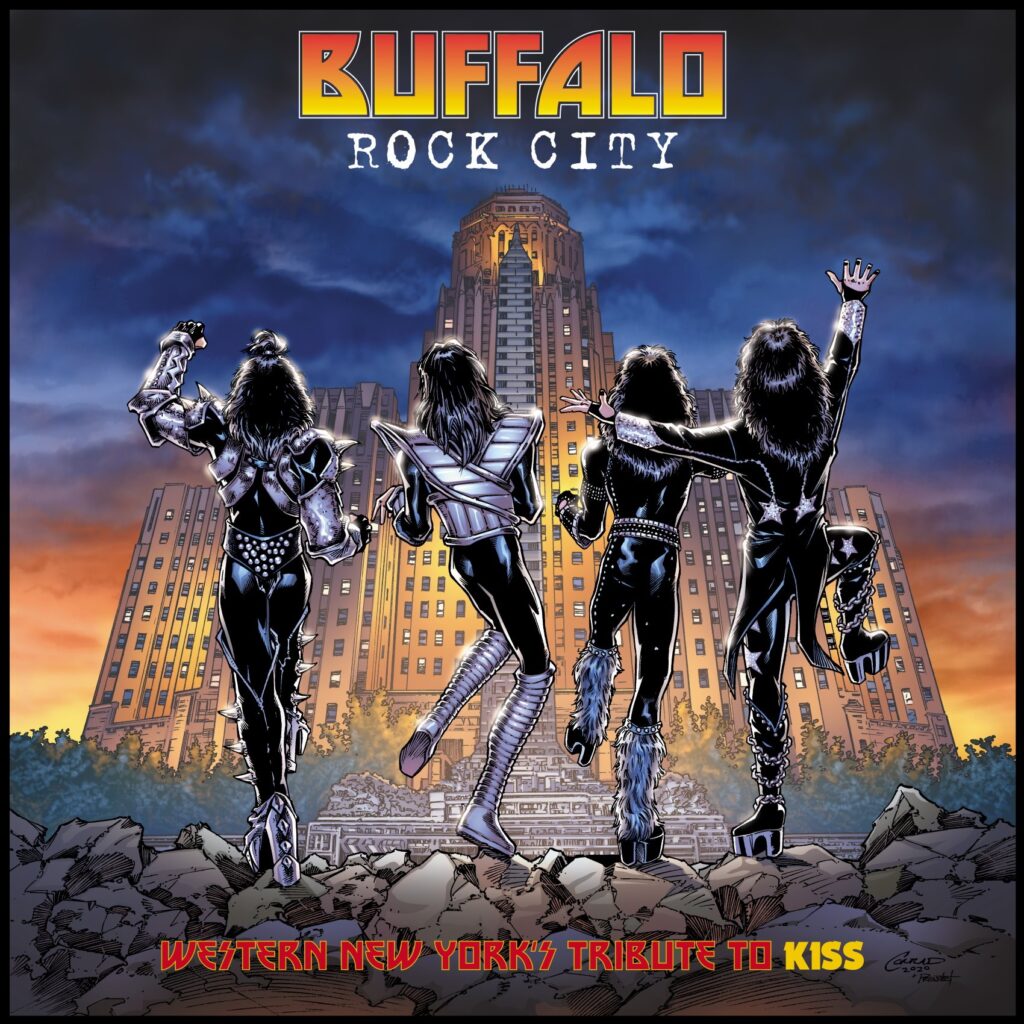 Keeping with the tradition of great KISS album covers, comic artist Kevin Conrad did the pencils and inks for the front cover of "Buffalo Rock City." A life-long KISS fan, Kevin's known for his work with Todd McFarlane, who hired him to ink all 31 issues of his "KISS – Psycho Circus" comic book series. The cover art depicts KISS THIS! wearing their favorite era costumes for the KISS member they personify. The band is poised in the iconic KISS "Destroyer" poses in front of Buffalo's City Hall.
To add to to authenticity of this project, "Buffalo Rock City" was mastered by Jay Messina. Anyone who knows the KISS recording history lore, knows Messina's connection with KISS goes back to 1976, as he engineered and mixed the band's breakout album "Destroyer." Messina, once again engineered and mixed the band's 1979 release, "Dynasty" and co-mixed KISS' next record, "Unmasked" (1980). Jay Messina, who arguably knows more than anyone, what a KISS album should sound like, did an amazing job in the mastering process of "Buffalo Rock City."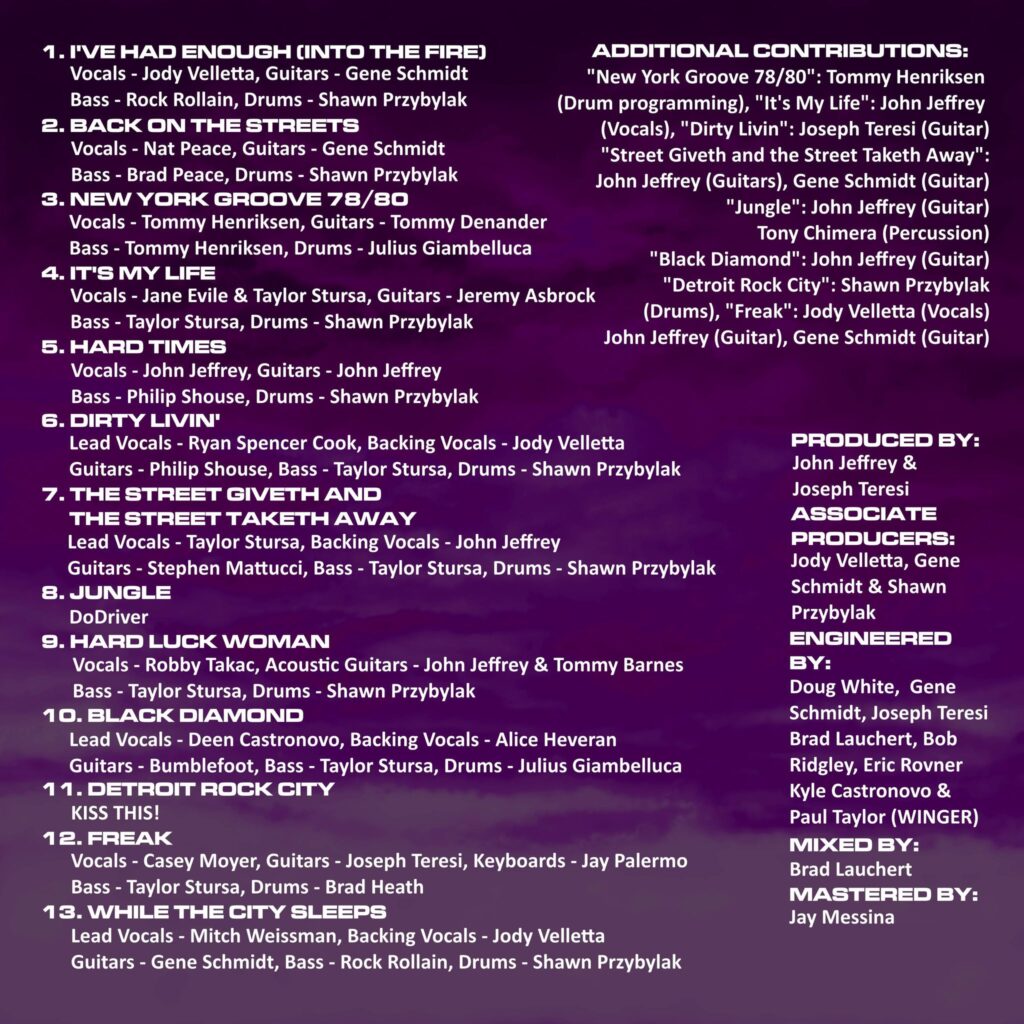 The album features the "best of the best" musicians from Western New York, as not only does the album include the East Coast premier, award winning tribute band, KISS THIS! (founded by "Buffalo Rock City" producer John Jeffrey), but also includes great artists such as DoDriver, an all original act, who were handpicked by Doc McGhee and the members of KISS, to open for KISS on the Sonic Boom tour at Darien Lake on August 13, 2010.
The album also features several professional, pro circuit, national and worldwide musicians, who donated tracks to the record as well. Contributions were made by Robby Takac (vocals), Tommy Henriksen (vocals/bass), Tommy Denander (guitar), Deen Castronovo (vocals), Ron "Bumblefoot" Thal (guitar), Philip Shouse (bass/guitar), Jeremy Asbrock (guitar), Ryan Spencer Cook (vocals) & Mitch Weissman (vocals).
If you're not familiar with some of these names, these "celebrity guests" have
toured and recorded with – Asia, Ace Frehley, Alice Cooper, DORO, ACCEPT, Gene Simmons, Guns N' Roses, Journey, Ozzy Osbourne, The Hollywood Vampires, Goo Goo Dolls, Michael Jackson, Toto, The Dead Daisies, Paul Stanley and Beatlemania.
https://buffalorockcity.bandcamp.com/album/buffalo-rock-city